Software Trial (Demo), Help Documents and Media
Software Installation CMMS FAQs
DEMO USER:
If using the trial version of MaintSmart simply choose the Manufacturing DEMO database from the Tip of the Day screen that appears when the program starts. If linking to a different database, such as would be the case in a production environment see the links below:
LICENSED USER:
This video explains how to change the database connection: Setting or Changing the MaintSmart Database Connection (Access or SQL Server)
Here is a document that also explains initial set-up of the database connection with some installation topis too.
Of course you can also call and we'll walk you through the database connection procedure.
Software Options and Versions
MaintSmart Enterprise is the complete CMMS software solution. This is a PC-Based application that may also be installed on the Cloud.For local server installs the software is a one-time purchase and all modules are included. Email support is free for life. Personalized phone, Skype and webinar support is available too.
These modules include (but not limited to):
Work orders

manual or automated
trigger by event, day, date, time or meter
unlimited file attachments of any type file

Preventive maintenance management

automatic recycling of calendar-based PMs
automatic issuance at exactly the right time (email/print)

Inventory management

minimum stock alert
restock alert
lead time
automatic restock reports emailed/printed
physical inventory variance audits
cycle count audit
countless reports
spares usage by, who, what, when, where and why.

Purchasing management

RFQ
inventory requisitions
requisition approval management
purchase orders
inventory receiving (partial, full, returns, etc.)
invoice matching

Downtime tracking and management

OEE (overall equipment effectiveness)
reliability analysis
pivot tables and charts
countless reports (automated or manual)
event notification based upon severity
How Do I Download and Install MaintSmart CMMS Software?
There is a web-based add-on for the MaintSmart Enterprise system. Here is a short video that describes this product.
Software Configuration and Initial Data Entry
Preventive Maintenance (commonly asked questions)
Work Orders
Work orders are the basis for CMMS software. As with other packages all work can be created, assigned and managed from the MaintSmart work order screen. The work order screen has countless options that are used to embellish the work order if needed. These include unlimited file attachments of any file type, embedded images and unlimited text details. With that said a work order may be as simple as selecting 2 fields (equipment and task) thereby creating a new work order in seconds.
Calendar-Based Preventive Maintenance
The MaintSmart development team, through extensive research, determined that many preventive maintenance task list could be quite extensive with many tasks for each equipment item. Additionally it was determined that in most cases the majority of these tasks were performed on a day interval basis. For example: every 30 days, semi-weekly, weekly, annually and so on. As such we developed a CMMS module specifically for the purpose of calendar-based , relatively simple preventive maintenance (PM) task lists.
The beauty of the PM module is that these PM lists only need to be created one time. Thereafter whenever a PM is closed it regenerates a new PM automatically. It is true of work orders that they too can create themselves automatically, however in the case of PMs these are existing (not new) records that simply update to the new due date.
Downtime and Equipment Failure Tracking FAQs
Inventory (Spares) Management FAQs
Purchase Orders, Inventory Requisition, Requisition Approval and Invoice Matching
Reporting and CMMS Data Analysis FAQs
Data Grid Options, Barcode Scanner and Other Utilities
Data Grid Options, Barcode Scanner and Other Utilities
Why Don't New Equipment, Personnel, Vendors, Tasks and Failure Causes Show Up in the Drop-Down Boxes Immediately After I Add Them?
I Need to Change the Default Sort Order to Show the Newest Work Order at the Top of the Data Grid. How Can that be Accomplished?
In most cases if a new data item (equipment, task, personnel, etc.) is added to a configuration screen while the screen that you intend to use the data item on is currently open the drop-down box doesn't show the new item unless manually refreshed. The reason for this is that the drop-down boxes generally have entries that are loaded from the database. If an item (example: new equipment item) is added from the Equipment Items screen the program does not automatically load drop-down boxes on screens that are currently open when the item was added. If it did reload the drop-down boxes every time a new data item was added your current addition or edit to the main target screen would be altered. Consider a network where multiple users re adding data to the same data table that loads the drop-down boxes you are working with on, for example, the work order screen.
So How Do New Entries Get Loaded Into the Various Drop-Down Boxes?
There are two primary time that data bound drop-down boxes get refreshed:
When the screen target screen is opened (examples: work orders, downtime, inventory, etc.)
The drop-down in question is manually refreshed without opening the target screen.
The first option is self-explanatory. The second option is generally available when you see the Yellow Funnel or Lightening Bolt button next to the drop-down. For example, if currently working on the work order screen and you leave the work order screen open to create a new equipment item when you return to the work order screen clicking the Yellow Funnel and choosing the Display All Equipment from the context menu all newly added equipment will load the drop-down box.
PLEASE NOTE: You DO NOT have to close and reopen the target screen to reload the main drop-down boxes.
Data grids are arranged in rows and columns. Each column represents a field in the database. These columns can be sorted  in ascending or descending order by clicking the center of the column header. It is also possible on the main screens to save the sort order, column width and hide columns completely. These settings are then saved to your user ID so that they come back whenever you open that particular screen.
The images below depict procedure to sort and save sort configuration.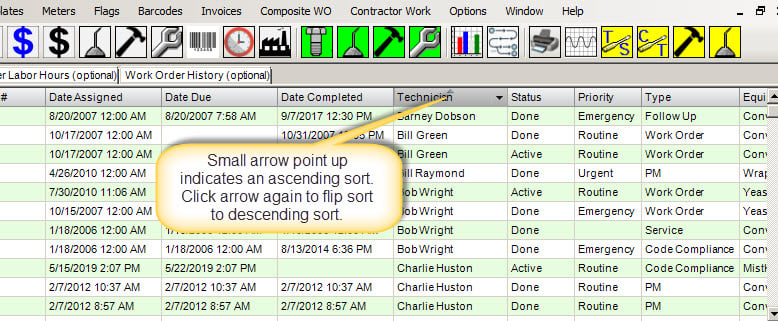 Do You Have a Suggestion for Our FAQ Page? Please Submit Your Suggestion Below.
Your FAQ Suggestion Has Been Sent. Thank You!
Share and Enjoy !