Preventative Maintenance Software | PM Software
Preventative Maintenance Software
MaintSmart's unique preventative maintenance software task list formats have streamlined our preventative maintenance system  ~ Organic Milling Corporation
Work Orders and Preventative Maintenance

Preventative maintenance software is essential for maximizing equipment life and reliability. Additionally a good preventative maintenance solution can quickly pay for itself by reducing lost production time in the manufacturing environment. Other reasons for using preventative maintenance software include:
Better maintenance of PM records.
Compliance with governing entities.
Better control of scheduling.
Optimized use of human and other resources.
Preservation and organization of inspection data logs.
Maintenance better structured and accountable.
Ability to easily track and report on maintenance labor and parts.
Interfacing preventative maintenance task intervals with reliability analysis Mean Time Between Failure (MTBF). Only found in MaintSmart CMMS software.
Automatic work issuance by print scheduler or email. Only MaintSmart CMMS software has this feature.
How Preventative Maintenance Software Saves Time and Money

Link Spares to a Preventative Maintenance Task List
Spare parts may be linked to PMs. Parts may be simply listed or automatically used from stock when the PM is closed. Shortages and location of needed parts is listed on the PM software module task list. Parts automatically used may be easily returned from the parts usage screen.
Link Preventive Maintenance Tasks to a Work Order
Select multiple PMs from a preventative maintenance task list then embed them all into one work order. Closing the work order closes all the embedded PMs. This makes closing PMs it fast and easy. These closes PMs regenerate themselves into new PMs with new start and due dates automatically.
Use Reliability Analysis to Adjust PM Intervals
MaintSmart is the only CMMS software that uses reliability analysis Mean Time Between Failure (MTBF) to guide the maintenance manager setting preventative maintenance task intervals. Setting the preventive task for a particular failure cause to a number lower than the MTBF for that cause on that equipment.
Work Order
Typically a work order is one primary task with detailed instructions, SOPs, file attachments and parts linked to it. Work order types include preventative maintenance work orders, downtime repair work orders, projects and general repair work orders. In many case work orders are initiated by a repair ticket (work request). This differs from preventative maintenance work orders because typically a request is not involved.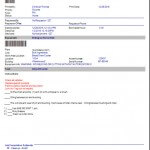 Work Order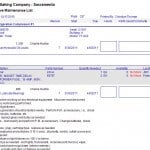 Preventative Maintenance List
Preventative Maintenance Task List
Typically a preventive maintenance task list contains many separate tasks in a list format. Each task may have detailed instructions, SOPs and parts lists. Unlike a full work order, the PM task list typically doesn't require as much detail. The preventative maintenance software module is the way to go for all simple preventative maintenance work.
Maintenance Management Software Features
This PM software system includes a simple list-based preventive maintenance screen in addition to the full-featured work order screen. Create and close preventative maintenance tasks from either screen. The difference between the full featured work order screen and the PM software screen are as follows:
The preventative maintenance screen provides a very simple list interface and helps reduce preventive maintenance time.
PM screen have capability to close 1000's of PMs at once using default average labor hours and due date.
PMs from PM software screen are automatically regenerated after closing.
PM screen uses a calendar-based interval where work order screen uses calendar or meter-based intervals.
Automatically Issue Preventative Maintenance
PMs may be scheduled from the Print/Email Scheduler and issued to the technician automatically based upon Day of Week/Time, Calendar Day/Time, Day Interval/Time. Examples might be:
Every Monday at 8:00 A print out all PMs for the week to the shop printer. Group by the mechanic.
Every day at 3:30 PM print out the daily walk-around critical point checklist for Swing Shift.
Every six (6) months email the required semi-annual PM inspection list to the boiler service contractor.
Filters include date, equipment group, equipment, technician, work area, location, line, task and task group. The report scheduler prints and emails filtered formatted preventive maintenance task lists based upon the user-defined filters created by you. These filters also contain a floating date range so that the print or email job only needs to be created one time. Thereafter the maintenance report scheduler generates reports using the date and other filters accurately and sends them to a printer or to email recipients. This is fully automatic. The end result is timely PM task list issued with exactly the right data, formatted and properly delivered. After the job is issued the schedulder automatically reschedules for the next instance without any user intervention.
Closing PM Tasks
Closing a PM is simple: select the row or multiple rows of PMs with a mouse-click. Enter the hours to complete (or check Use Average hours) the click the Completed button. All of the closed PMs are immediately archived into PM history then rolled over with a new start and due date.
Use the preventative maintenance screen for all preventative maintenance or PMs may be performed from the work order screen. Either way work may be automatically scheduled, assigned, quickly closed then new PMs automatically regenerated. It is even possible to embed an entire PM task list into a work order Closing the work order closes all the embedded PMs at once.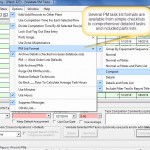 Preventative Maintenance Software List Formats
MaintSmart Software, Inc., 66164 Homestead Rd.,  North Bend, OR,  97459 U.S.A.
+1-541-751-0450 ~ sales@maintsmart.com