The majority of the machine maintenance software applications available today fall short on reporting. We often get the phone call from a disappointed user of one of our competitor CMMS software reporting module. Typically the comment is: "I have entered all this data into the CMMS software reporting database but cannot get it out to a report."We addressed this frustration by including multiple ways to report.  Track maintenance data by any number of provided methods and reporting formats. All data in MaintSmart may be reported on by one or more of the following methods:
All data on every screen exports directly to Excel with two (2) button clicks.
If you prefer to share data with someone who doesn't have Excel then export the data directly to a new web page with two (2) button clicks. Everyone has a web browser so all data can be shared with anyone under any circumstance.
Most screens and all analysis screens report to the powerful Crystal Reports data engine. These are formatted reports with charts in many cases.
All screens have the ability to use the query-builder on the data. This give the maintenance manager complete control over what to display in the report and how.
All analysis screen have a unique OLE automation interface to Excel. This is different than a straight Excel import (item 1. above). OLE automation actually exposes the Excel application to the CMMS software reporting component so that it can instruct Excel on how to build the spreadsheet.
CMMS Software Reporting Methods
This system has flexible reporting and offers the following reporting methods:
Machine Maintenance Software Report Formats
There are several different format available in the machine maintenance software reporting module. Since users of machine maintenance software often need to share data reports with external users it is important that the CMMS software reporting is flexible and accommodates multiple file formats as follows:
Web page (created automatically, share with anyone)
Excel format (created automatically, share with MS Office users)
Crystal Reports exports to Adobe Acrobat, MS Excel, MS Word, Comma-Separated, XML, Text.
Grid export saves as many formats.
Automatic Reporting from CMMS Database
The MaintSmart CMMS solution query builder reporting module contains an automatic printing and emailing scheduler found only in this machine maintenance software application. The print/email scheduler provide a powerful tool to the maintenance manager that once set-up continues to issue timely reports and work assignments automatically.
Check out our CMMS blog for many tips and shortcuts.
Instruction on how to create and view various CMMS software reporting formats.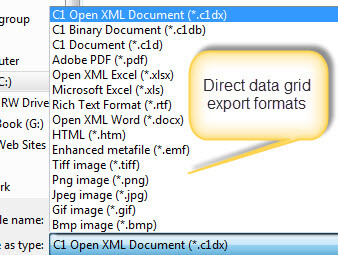 Machine maintenance software reporting formats for raw data grid export.
How CMMS Software Reporting Saves Money
Timely reports for equipment breakdowns identify problem areas. All Crystal Reports contain summary sections that highlight the highest priority issues for the maintenance manager. Providing a path to quick resolution.
Through the use of the CMMS software reporting scheduler preventative maintenance task lists are automatically issued by email or by printer. This saves money by providing consistent preventive maintenance thereby avoiding costly breakdowns.
The inventory management software module of the machine maintenance software give the manager a quick look at parts that need to be reordered avoiding parts shortages. Additionally physical inventory audit reports maintain the integrity of the maintenance spares inventory saving big money on inventory.
Although not strictly a saving attributed reporting we have had reports from customers that have dropped their price-bloated ERP system in favor of MaintSmart saving over $100,000 annually just in support costs alone and at the same time accomplishing as good or better results with MaintSmart..
Saves Time with Machine Maintenance Software Reporting
Reporting also provides real time-saving benefits to the maintenance manager. For example the print and email maintenance scheduler issues timely work assignments automatically. This leave much time for the maintenance manager to perform other tasks. Additionally timely work assignments ensure a more balanced work load and avoid lost time due to missed PMs. Accurate project or repair work orders contain needed parts lists and infinite space for detailed instructions. Everything the maintenance personnel need to know to perform the job is on the work order (including unlimited file attachments).
Due to the many formats that are immediately available to the CMMS software reporting module, reports are quickly generated for no CMMS software users by using one of the generic reporting formats such as Excel, Adobe, web page, text and others. Any data in th program may be converted to these formats with one button click. If results need to be posted on a corporate intranet site simply convert the report to a web page instantly. There is no need to have web developers involved to accomplish this.
Contact
Grid Column Filters
File Attachments
Contact Us! We want to hear from you.

Installer password?
Free help documents and videos?
Free personalized online demonstration?
Any questions?
Pricing for software?
Formal quote or proposal?
Free consultation?
All suggestions and comments are welcome!
MaintSmart Software, Inc., 66164 Homestead Rd.,  North Bend, OR,  97459 U.S.A.

+1-541-751-0450 ~ sales@maintsmart.com